The purpose of this document is to is to state valid criteria and corresponding testing methods to be used in connection with certification of floorball equipment, dealing with sticks, balls, goals, rinks and face masks. This is a short version. A full version is available for downloading in the left column.
Rules
These rules, as well as methods, has been compiled by the SP Technical Research Institute of Sweden in collaboration with the Swedish Floorball Federation mainly in consideration of functional and safety requirements. In this version, the original criteria have been adjusted according to the instructions of the International Floorball Federation.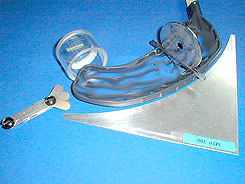 Objective
The objective of this presentation is to describe applicable evaluation methods and requirement criteria for use in connection with certification of floorball equipment. The methods described relate to clubs, balls, rinks, goals and facemasks. IFF and RISE have developed the methods, with the main emphasis on functional and safety aspects
Background
Floorball is a new and growing sport, for which the equipment is characterised by a rapid rate of development and a richness of variety. It was against a similar background that, working in conjunction with SP, the Swedish Floorball Association developed and introduced an approval scheme for floorball equipment, the objective of which was to monitor and check the development of equipment.  Approval of equipment was introduced in Sweden in 1993, and was progressively modified on the basis of experience over the next five years.
This version of the approval scheme for floorball equipment is based on the IFF's views of the Swedish system and on its decisions relating to the scheme. Equipment to be approved by the IFF Floorball Equipment Approval Scheme must meet the requirements in respect of initial type testing and of subsequent unannounced inspection of/at the manufacturer's or importer's premises. The underlying methods of evaluation and performance requirement levels are, in all essential respects, the same as in earlier versions
Purpose, Area of Use
Test methods and requirement criteria are intended to ensure the quality, characteristics, dimensions and safety aspects of floorball equipment, and form the basis for certification of floorball equipment intended to display the IFF approval symbol.